THE FIRST ALL-INCLUSIVE

420 FRIENDLY
RESORT ON THE EAST COAST
Where guests are greeted with a carefully curated welcome package including host-picked Terpene tasting, delectable confections, rolling materials, and fun seasonal items.
The all-inclusive stay also includes 3 meals per day with an infused option, an open bar, 24-hour snack bar, and a fully stocked guest fridge.
Prepared Meals with Infused options from Appetizers to Dessert!
420 LIFESTYLE CUSINE
Gather your Stoner Friends and come have a High 'ole Time!
Enjoy & Remember Great Times with us
Come experience Fine Cannabis Dining, in a private setting complete with Fresh Flowers, and Killer Pre-Rolls! Seasonal outdoor dining options, with multiple Heat Lamps, Fire Pit, and 80-inch projection screen. Options ranging from District Wings to Cold Water Lobster, and everything in between.
Groups of 2-25 Welcome
We came here after another booking was canceled; however, was greatly surprised. Nichole and Paul greeted us and made us feel like friends and family to be. From the Zen Shalom house vibes and a place of being to the friendly yet intelligent conversation we then settled in. Being given a nice fun welcome package of 9 individual gms of varied strains, edibles, cones, etc (in a cool plastic tower), began the unwind from the 5 hr drive. Followed by a full snack bar, full drinks, and in our case, freshly made pizzas made the afternoon serene. Nicole helped hook us up with a canna vendor to make home delivery better than Uber eats, but with top-shelf weed! :) Dinner was great from the infused wings, and steaks, veggies, and wonderful Mac n cheese followed with dipped strawberries and brownies were just WoW! Nice no pressure feeling throughout the stay. Gonna try the hookahs when we return.
Stayed here the weekend of August 28th for the cannabis festival and found a home-away home vibe. This was the best decision I've made in quite a while! The host Nicole was amazing she had a great personality and outlook on life. She was very hospitable and sweet. Her home was absolutely beautiful, very comfortable and relaxing! She cooks for you infused if you would like, provides juice and snacks and alcoholic beverages, and has great vibes. She offers different deals from a short stay to even just a day getaway! If ever in the area and looking for a wonderful vibe check her out. You may just need to stretch your legs, get something to eat, and smoke up. Nicole is, a real-life superhero and has the #Capron to prove it!
We had the opportunity to spend 5 relaxing days at the Canna Cape Cod back in May. I wanted to do something special for my husband's birthday, and the CCC was exactly what I was looking for. Nicole was really fun and cool and a great hostess! We'd never stayed at a B&B before, but she set the bar high. She was in contact from the get-go asking about food and cannabis preferences, and it was that attention to personal detail that made the experience so unique. The food was delicious and plentiful, the house was comfortable and inviting, and the 15 different strains in the "flower tower" made for a really chill experience. 10/10 would recommend a stay at the Canna Cape Cod for any cannabis connoisseurs in the D.C. area.
Nicole is the absolute best hostess ever. Before we got there my fiancé had messaged her and had her set up a romantic trail of roses with a heart of petals on the bed, it was the cutest thing ever. She also is the BEST COOK and the food alone was worth the stay ?. She was able to answer the many questions I threw at her. I even asked her where I could buy edibles at and she brought me some to try! I cannot wait to come back again to stay with Nicole!
Wow!! By far the best stay I have had!!! From the moment I booked until the very end. Nicole has such a vibe that it feels like home and let me just say the food…. All inclusive for sure!! It's hard to leave when everything is under one roof. Hookah, food, drinks, music, painting, snacks, weed and many laughs! I can't wait to come back for my birthday! Thanks Nicole for having us!!
My husband and I had an amazing time! From the moment we arrived, we felt so welcome and at home. The gifts were amazing and more than enough for our one-night stay. The host, Nicole, was super awesome! She made us feel so welcome from arrival to departure! Her cooking is perfection on a plate. I would go back just for the food alone, but the entire experience was top-notch. The place was clean, comfortable, and roomy. We definitely will return, no doubt!
Although I didn't enjoy the full package of a full night stay I must say this place is an absolute delight to visit for the private dinner package also. We were running a little late, and the hostess was very understanding & accommodating. The inside ambiance had such a great relaxing, calming, and soothing feeling soon as you walked in the door. The inside set upset was beautiful also, and the birds gave it a warm feel. It was very clean, had several air purifiers, and great lighting for the atmosphere you want. And as for the food IT WAS ALL DELICIOUS!!!! I enjoyed a tasty infused vodka, and although I didn't finish all the strains from the flower tower the ones I did enjoy already have been VERY GOOD. This place is so awesome to me I'm doing a once-a-month date night here from now on. Soon as I get the money I'm gonna do a weekend for sure, and I would recommend this place to anyone it's a great choice.
My husband and I had the BEST honeymoon ever staying here! The host made the whole experience truly amazing and by the end, we were not ready to leave. The food was to die for, I am sure I gained like 5 pounds from all the good eating haha. It was our first experience at a B&B with the host staying with us and we loved it. We felt very comfortable, the house was comfortable. I became one with the couch a lot haha. Everything was top notch and we will definitely be coming back! A big thank you to our wonderful host, we can't wait to go back!
One word…Euphoric!
I booked this listing for my gf's birthday. This was our first experience with the host in the home. I don't regret it. The food is southern bliss with an upscale twist and a side of marijuana butter. The energy of the space is absolutely lovely. From the incense, air purifiers, oil burners to the candles you feel like you're in a warm hug in every space you enter in the home. The marijuana experience is the best I've had so far. The welcome basket was full of goodies. Gummies. 12 strains. Wraps. Cones. And more….I had no reason to visit the dispensary! If you are looking for a chill spot with high vibrations you have found it. Hands down the best! Nicole, I will see you soon!
Nicole was AMAZING. The welcome package was more than what you need (and we need a lot). Her food was amazing. This was absolutely worth the price and more. She is awesome! You will not regret it! 🙂 we can't wait to go back!
You definitely want to book this one! My husband and I eloped in DC and stayed with Nicole for 10 days during our honeymoon. She went above and beyond to make sure our wedding and honeymoon were perfect! She even helped me with my hair and makeup the morning of our wedding! We never ran out of bud because she provides more than enough to get you through your stay plus some take-home goodies! The bar is fully stocked if you like to drink and lots of munchies! The food was fantastic and she even infused some meals. My husband could talk to her for hours about different bud strains and smoking. It felt like staying at a friend's house and we can't wait to go back! Definitely more than worth the cost!
Nicole is the true hostess with the most! Its just like walking into mamas house right before Thanksgiving dinner…the food was beyond delicious and not just the infused parts. Never felt more at home and comfortable than I did here and (I've had all-inclusive international and abroad)but Nicole surpasses the Ritz!
This was by far the best experience I have EVER had. Nicole was so inviting and her place is so comfortable and clean. When she says "all-inclusive " she means it!!! She is a pro at entertaining and accommodating. Her cooking was amazing and much better than any restaurant we could have gone to. We nick-named her "Marsnoop" (Martha Stewart and Snoop Dogg) because she is the best of both!!!! We have already booked our next trip!! You will NOT be disappointed. Now go book!!!
Listen, this place is amazing!!! I live in the city and booked a stay for my husband's birthday. From the booking to check out, Nicole was amazing! She made us feel comfortable, relaxed, and we had a great time. Every room in this beautiful home brings a certain peace and relaxation you won't be able to find anywhere else I promise. Looking for a Budandbreakfast in DC, look no further. This place is perfect!
This was absolutely one of the best experiences. Nicole was amazing and friendly. Not to mention she can COOK COOK!! She makes it to where u never want to leave and honestly why would you, she has everything you could want and more. If I could give her 100 stars I would that's how amazing it is. I will definitely be back.
I could not have asked for a better hostess for this stay! Nicole cooked the most amazing food the entire time we were there. She was also able to answer all of my cannabis-related questions and we never went wanting for anything. Seriously, we could not have been more well provided for. Every time we decided to leave the house I had to ask myself why lol. But, we did want to see some of the sites in DC. I was completely blown away by the hospitality that we received as well as the perfect stoner environment. I highly recommend staying here to anyone and I can't wait to book a trip back!
So I did not know what to expect when I first booked, this was above and beyond anything I could have imagined, my expectations were blown away. We went to celebrate my partner's 40th birthday and it was absolutely amazing. Even before arriving at our host, Nicole was in contact to ask about any special requests. As soon as we arrived we were greeted by Nicole and instantly felt so very welcome and comfortable. The house is beautifully decorated with such an amazing vibe. Our welcome package, the "flower tower" that she has created, included so many different strains, plus everything you may want to use to smoke down to the lighter. Around 420pm we had fresh veggie trays and wings with an assortment of hot sauces labeled from 1-10 for heat. We mentioned lemonade to drink and she was quick to make us some with infused sugar. Nicole prepared us the infused dinner of our choice of steak and shrimp, roasted potatoes, and broccoli. It was one of the best meals I have ever eaten. She had birthday cupcakes ready for after dinner, She helped distract him in the other room by getting the hookah going, while she set the scene in the other room with music and lighting to sing Happy Birthday! Nicole went out of her way to help make this birthday unforgettable. The rest of the evening was so relaxing, we smoked and had a few drinks, there was quite an assortment of wines and liquors available. Nicole is so knowledgeable in many different areas involving cannabis and just so much more. We had some great laughs and interesting conversations. We stayed in the Master suite on the first floor, the room is beautiful. When it says all-inclusive, it really means that anything I could have needed was available down to a toothbrush kit. Talk about a lifted experience, the bed felt like I had sunk into the clouds. In the morning we were served Mimosa, as a breakfast of Chicken and Waffles with the best butter and maple syrup was prepared. It did rain during our stay and I did not get to enjoy the secluded backyard sanctuary that was filled with outdoor furniture, lights, swings, and hammocks. My only regret is that I did not book the entire weekend, it was only for one night. The next night was already booked, and I did not want to leave. So do not hesitate, book as soon as you can, Canna-Capecod fulfills all your 5 senses at once. This was the most phenomenal evening and an incredible experience. I left feeling like I made a new friend in Nicole and can not wait to return. I did not know how much that kind of night was really needed until we experienced it, it was such a relaxing and peaceful getaway from our day-to-day.
My husband and I have been back from our first BB trip for a week now and I still cannot find the words to describe the time we had. Fun? No that's not it. Wonderful? No that's not it either. All I can say is LOOK NO FURTHER, you have found the place you HAVE to visit.
When we got to the house we had no trouble parking as there were spots directly out the front door for our entire stay. Since we were not familiar with "communal visiting" we had no idea what to expect. While a little apprehensive at first, that feeling passed shortly after the house tour ended. Nicole makes you feel welcome and like family from the minute you cross the threshold. The room is exactly how it is pictured and a nice space IF you want to getaway. The generous welcome package was enough but I will say this, you might miss some extra sessions if you choose to be closed off 😉 Since we did not arrive until 7 pm the first night we were not expecting a full meal, surprise! we were treated to a yummy meal and great company.
Nicole started the official birthday with gourmet shrimp and grits AND chicken and waffles. We had plans that day but hurried back to hang with Nicole and get the "party started." Nicole opened a pretty expensive bottle of tequila and had a HUGE spliff (picture huge but bigger) waiting for us. This birthday is one that my husband will NEVER forget.
We came into this not knowing what to expect but came out of it with a friend for life. This trip will be hard to top.
We truly THANK YOU Nicole and we will be back!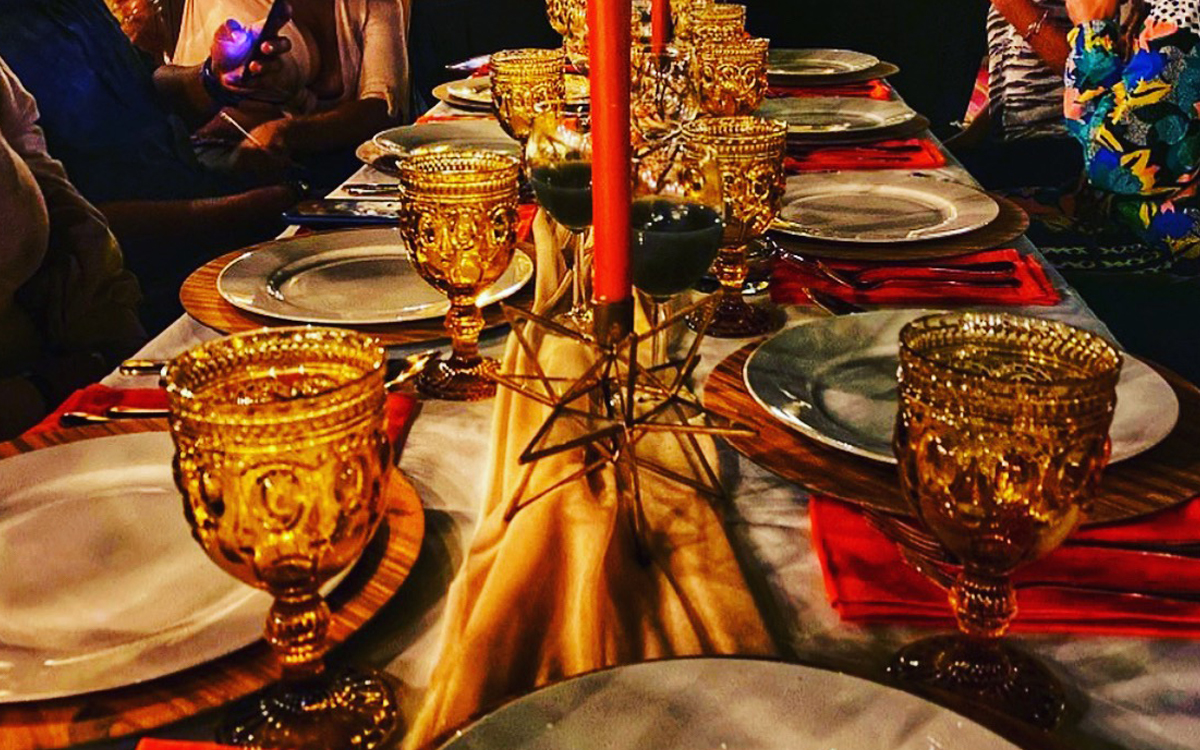 420 Dinner Parties
Bring your own friends or link up and find new faces at Fun Monthly Stoner meet ups!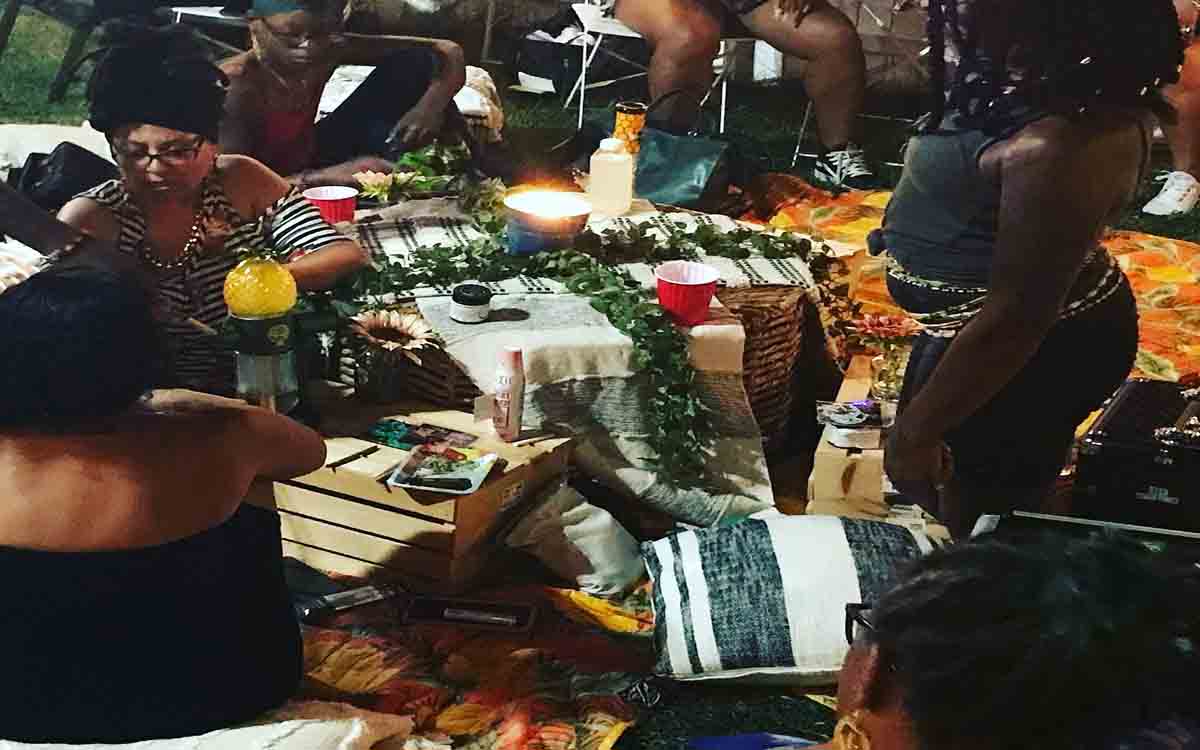 Movie Night Under The Clouds
Enjoy a projected Movie, indoor or outdoors, you'll always feel like you are floating with infused concessions, and drinks!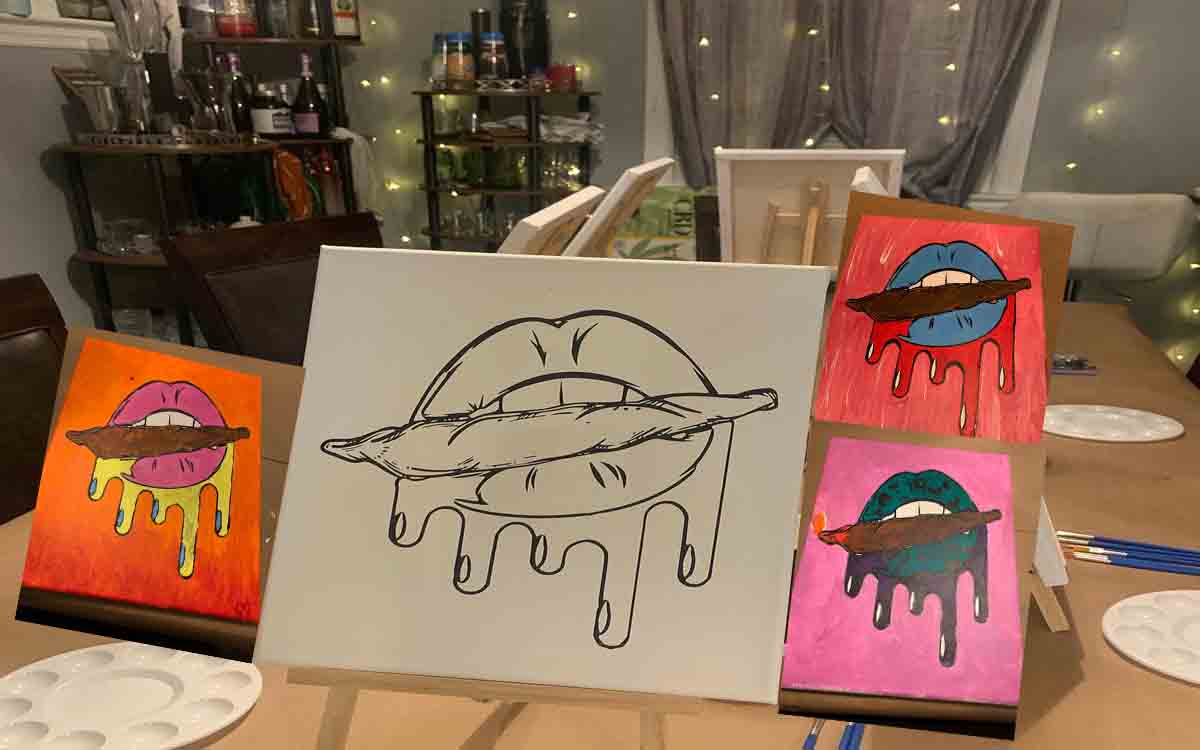 Cannabis on Canvas (Puff & Paint)
Come put your inner visions on Canvas in a fun environment with food, flower, and friends!